We are sorry to let you know that devotee Chris Bearde left his body on Sunday April 23. We invite you to his memorial service on Friday May 12 at 3 pm, at the Hollywood temple. Refreshments follow the service.
Chris Bearde was born in Richmond, England in 1936. His father went into World War II when Chris was only 5 years old. His mother Gladys worked in a tank factory to support the effort and take care of Chris and his younger sister Robina.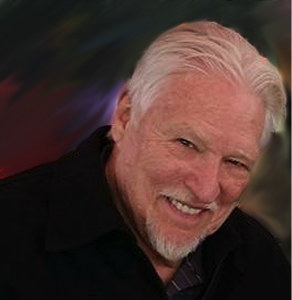 When his father Don returned from the war, England was in shambles, so he moved the family to Australia, where they arrived with thirty dollars and a lot of hope.
Chris started in radio spinning records and writing jokes for the on-air talent. He and his sister both took to the theater, and both began performing at an early age. Chris had always been the court jester, making his family and friends laugh with impressions, sight gags and wacky jokes. He soon found himself as the star of an Australian children's television show where he read Dr. Seuss books in jazz cadence, backed up by a small jazz band. Everywhere Chris went, children followed. That never stopped. He spoke with every child he encountered whether he was in a grocery store, a park or a restaurant. He was the Pied Piper. All the kids would gather when PopPop (as he was known to his grandchildren) would sit down to tell a story.
His talent for writing and performing comedy lead to a move to Canada where he wrote and performed in a notable socio-political late night comedy sketch show that was the first of its kind and gained him the notice of American talent agents. He then moved to the US and began a 40+ year career in television as a producer, writer and performer. Chris received eight Emmy nominations, one Emmy, and many other awards for his outstanding work in television, stage and film.
Chris was an artist through and through. His mission in life was to entertain people and make them laugh, giving them an escape from troubles and hardship. He cared deeply about the human condition and used the open platform of television to not only entertain, but to make people think and care about others. He was a relentless activist and spoke out boldly against injustice, always using his razor wit to say what others couldn't.    He took every opportunity to lend a hand to young artists and performers, to elevate and encourage them. He loved people and was fascinated by the world around him.
Chris passed peacefully through the veil and into the loving arms of Sri Ramakrishna and Holy Mother whom he loved deeply on April 23, 2017. He was 80 years old.