Founder of the Vedanta Society of Southern California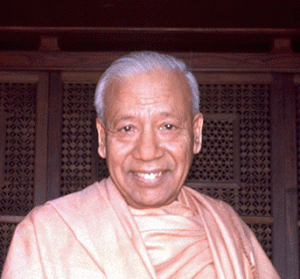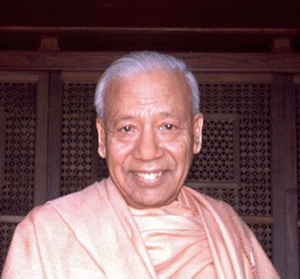 Swami Prabhavananda was one of the pioneer swamis sent to America by the direct disciples of Ramakrishna to build on the work started by Swami Vivekananda at the turn of the century.
The swami was born in India on December 26, 1893. In 1914, after graduating from Calcutta University, he joined the Ramakrishna Order of India and was initiated by Swami Brahmananda, a direct disciple of Sri Ramakrishna.
In 1923, Swami Prabhavananda came to the United States. After two years as assistant minister of the Vedanta Society of San Francisco, he established the Vedanta Society of Portland. In December 1929, he came to Los Angeles where he founded the Vedanta Society of Southern California the following year.
Under the able care of the swami, the Society grew into one of the largest Vedanta Societies in the West, with monasteries in Hollywood and Trabuco Canyon and convents in Hollywood and Santa Barbara.
Swami Prabhavananda was a man of letters as well as a man of God. He wrote and translated a number of books with the object of making the spiritual classics of India available and understandable to Western readers. He was assisted on several of the projects by Christopher Isherwood or Frederick Manchester. His comprehensive knowledge of philosophy and religion attracted such disciples as Aldous Huxley and Gerald Heard. His publications, which include the Bhagavad-Gita, The Upanishads, Breath of the Eternal, How to Know God: The Yoga Aphorisms of Pantanjali, The Eternal Companion, and The Sermon on the Mount According to Vedanta, continue to this day to capture interest and draw people to the Vedanta philosophy.
Swami Prabhavananda passed away on the bicentennial of America's independence, July 4th 1976, fitting for one who gave so much of his life to this country.