We are sorry to let you know that longtime devotee and Vedanta Society member Katherine "Shobha" MacGregor left her body on November 13, 2018. A memorial service will be held on February 24, 2019, at 3 pm, at the Hollywood Temple.  Swami Chetanananda will participate, at Shobha's special request.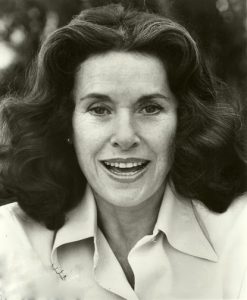 Shobha was a gifted actress, and co-founded the Wee Hollywood Vedanta Players children's theater company, which presented drama productions at the Vedanta Society. An initiated disciple of Swami Prabhavananda, she lived for many years across the street from the Hollywood center to be close to the temple. She often entertained Swamis and devotees in her residence there, and would attend lectures and other events in the temple. For a period, she read from the Gospel at the Wednesday class on the 
Gospel of Sri Ramakrishna
. Her animated personality always enlivened the events she attended.
Shobha became famous for her role as Mrs. Oleson in the TV drama series Little House on the Prairie.
A number of obituaries have come out in the mainstream press, including the Washington Post and People Magazine.