We are sorry to let you know that longtime devotee and Vedanta Society member Supriya Ray left his body on August 17.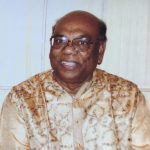 Supriya Ray, a lifelong devotee of Sri Ramakrishna and Holy Mother, passed away peacefully at home on August 17, 2018 with his loving family by his side. He was 83. He was a disciple of Swami Asheshananda, of Portland, Oregon, and a devout follower of Swami Swahananda, of Hollywood, California. Supriya first came to the Vedanta Society in the late sixties and was greatly influenced by Swami Prabhavananda, which planted the early seed of Thakur and Holy Mother's ever-present guiding light in his life.
He lived a remarkable life marked by great adversity. Born in 1935 in Dhaka, British India (present day Bangladesh), he survived the Bengal Famine of 1943 and the Partition of India in 1947. As a result of the latter, his Hindu family was displaced from their ancestral home and forced to resettle as penniless refugees in Calcutta, West Bengal.
After a decade of struggle and steadfast determination, he arrived in the US as a graduate student in Physics in 1963 and earned a PhD in Physics from the University of California. The majority of his life was spent in La Cañada, CA where he raised his family, worked for NASA/JPL (Jet Propulsion Laboratory) and later worked for the US aerospace industry.
His professional accomplishments and contributions at JPL include working on the Helios project (which notably verified the results of Einstein's Theory of General Relativity) and the Viking Orbiter (which sent back the first high resolution images of Mars' surface), and helping to build numerous satellites to further the defense of the United States while working for the Aerospace corporations, Hughes, Boeing, and later Northrup Grumman.
Dr. Ray is survived by his wife Krishna; daughter Nandini, son-in-law Asish of Hopkinton, Massachusetts; and sons Kanishka, Sumukh and Soumya; daughters-in-law Corliss and Smita; and four grandchildren. Supriya lived with Nandini and Asish for the last several years. Services were held privately with the family in Hopkinton.
Supriya believed in working hard, being humble, and letting truth be his guiding light. He is now in eternal peace, at one with Sri Ramakrishna and Holy Mother.