We will read about and meditate upon the Prasna Upanishad. Retreatants will read provided passages from the text aloud and meditate upon each passage. The day also includes group chanting and sessions of walking meditation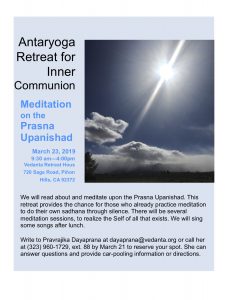 . This retreat provides the chance for those who already practice meditation to do their own sadhana (spiritual practice) through silence. The meditation sessions allow us to realize the Self of all that exists. Participants share a potluck meal and then sing some songs. 
Write to Pravrajika Dayaprana at dayaprana@vedanta.org or call her at (323) 960-1729, ext. 88 by March 21 to reserve your spot. She can answer questions and provide car-pooling information or directions. There is no fee for the retreat; however, a donation of $3 is requested, but not required, for materials.