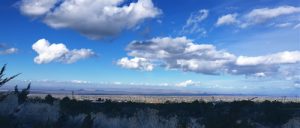 RETREAT FOR INNER COMMUNION
9:30 ~ 3:30 pm
Vedanta Retreat, Pinon Hills
Devotees who already practice meditation are invited to spend a day contemplating the Prashna Upanishad. This is the first of two sessions.  We will contemplate the questions in this Upanishad, proceeding step by step, from the gross to the subtle. In Part 1, we can learn how to understand the phenomenal world. Next month, in Part 2, we will meditate more deeply to realize that one is in reality this Brahman. The text will be provided at the retreat.
There will be several meditation sessions, to realize the Self of all that exists. We will sing some songs after the lunch. There is no instruction for meditation.

Contact Pravrajika Dayaprana at(323) 960-1729 Ext. 88  before March 23 for reservation and questions, including car-pooling and directions. This retreat is by reservation only.  Directions and program will be sent to you.