"Who is this monkey, Hanuman? Rama has let him loose in the world… Hanuman can break in or break out of anywhere. He cannot be stopped, like the free wind in flight… Hanuman can spot a tyrant, he looks at deeds not words…" ~ William Buck's translation of Ramayana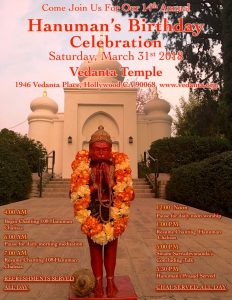 All are invited to join us in singing 108 Hanuman Chalisas for Hanuman on his Birthday Saturday, March 31st. It is said that Hanuman was born on the 1st full moon of spring. On this 14th year of Vedanta's honoring Hanumanji's birth, Saturday, March 31st, will be the time of the full moon of spring. Since we begin at 4AM, those who arrive at that magical holy time will see Hanuman's full moon setting in the western sky. Besides Hanuman and the full moon, fresh chai will also be here for you. This is a family and child-friendly event.

Please let us know if you would like to lead some Chalisas for Hanuman. Also, anyone who would like to serve Hanuman by participating in preparing his prasad or in any other way, please let us know here or by contacting Tara at tdsea@earthlink.net.

Jai Sri Pawanasuta HANUMAN!