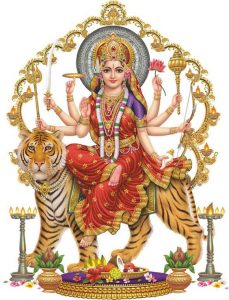 Following the inspiration and footsteps of Swami Swahanandaji, we invite and encourage devotees everywhere to pledge for extra "Jai Sri Durga" Japa during the coming auspicious Navaratri, the "nine nights" sacred to the Divine Mother, from 20 to 30 September 2017.
Devotees may submit their pledges to their nearby centers.
The idea is to pledge a certain amount of Japa (repetition of a mantra) for each day, above one's regular number. This has at least two benefits:
1) It helps us to stretch ourselves to have a greater capacity for spiritual practice.
2) The spiritual energy produced and the merit that it brings for each 100,000 repetitions is equal to one grand Durga Puja performance. 
Though it is best to be as consistent to do japa everyday, as far as possible, yet if one gets behind the number pledged one day, one can make up that difference the next day. Jai Sri Durga!