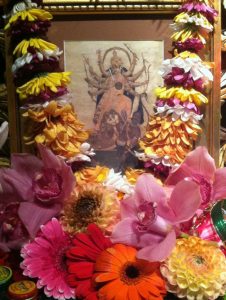 Please come and join the joyous celebration of Mother Durga's annual festival:
11:00 am

: Puja Worship

12:30 pm

: Flower Offering

12:45 pm

: Lunch Prasad
Important:
Please carpool as parking is limited.
If you're coming to the Puja, please bring a dessert of some kind, preferably something easy to serve.
Please bring all food offerings down to the convent, not to the temple.
Due to drought water restrictions, only portable toilets will be available.